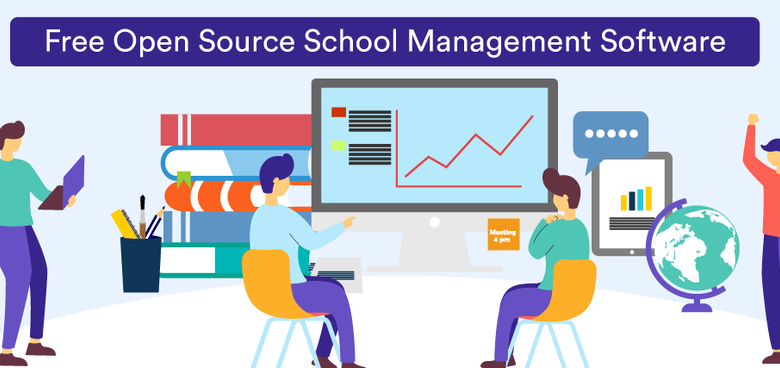 School management is an essential component of every educational institution.
Schools are around the world are actively engaging in many activities to manage the school operations. We use school management system to provide better educational experience. 
Schools are now using school management software to help execute school management tasks and assure parents of their children's wellbeing and success. School software has a range of modules that assist with school management. 
Let's take a look at the top modules of the best school management system.
Information about the student
Fee, library, online classes, or attendance everything are important! Using top school management software, almost all information about students can be quickly accessible.. 
Teachers can view specific information about students in the student log, such as grades, names, and information about parents and their siblings. The school management system also provides specifics about the student's medical records, accounts, billing, and more on this software.
The software for school management can be used as identification cards to gain access to information about a specific student when needed. 
Parental Control
In today's hectic environment, being active in your child's school events and keeping track of their academic success can be challenging. Don't worry, choose the right school management system. 
School Mobile App comes up with school management software that provides parents with access to data about their children's academic progress and experiences. Software for school management encourages parents to spend the whole day with their children and teachers.
Different portals for users
The school management software provides different portals for teachers, students, parents and administrators with different accessibility.  It saves teacher's a lot of time by giving attendance and progress reports to parents right away from their portal 
The school management system let students and parents get in touch with the faculty anytime as per their requirement. It also sends updates to the parents on PTA meetings, grades, homework, and other school-related matters. 
If we talk about the administrator, they can manage almost everything from the single dashboard to school software, as they have super admin accessibility. 
Access teacher's information
The best school management system not only assists in the retrieval of information about students but also in the retrieval of information about teachers within the school.
From school software, you can look up any teacher's class schedule and also sending them schedules is so simple. Teachers may also use their institute mobile app to keep track of class schedules, student success, and classroom events in one location.
Integrations
Integrations have progressively begun to penetrate our everyday lives. It is now a component of a wide range of popular technologies. School Bus Management is a key field of integration for efficient school management.
Managing school buses has never been simpler thanks to integrated features like auto-routing, auto optimisation, and auto allocation. So, see the effective school management system that fits your school needs.
The word "Integrations" isn't a fancy one. It actually saves you money and increases your protection and return on investment.
Bridge communication gap
Student achievement is largely determined by the effectiveness of contact between parents, classrooms, and teachers.
Parent portals are available in school management systems and are capable of promoting contact by delivering email, voice messages, and e-mails to a predefined community of parents as well as the entire school.
As a result, school officials would spend less time making phone calls or leaving notes with parents.
Another limited but important feature of highly efficient school ERP software is the ability to communicate important days such as teachers' day, annual day, cultural day, and so on using models.
Attendance Management
Attendance management is a critical school management activity that necessitates teachers devoting a limited amount of time at the outset of each lesson to it.
It can be overwhelming for teachers to handle the whole task of taking attendance and properly tracking it. It's difficult to keep track of attendance in grids of tiny squares, and mistakes are common. With the Teacher App, keeping track of attendance is no longer a hassle. Software for school management makes it as easy as pressing a button to monitor each student's attendance. Using School ERP Software, you can monitor your students' attendance without making any mistakes. You can also share the information with parents in a timely manner. Teachers can use the teacher app to monitor their own attendance, review their schedules, and apply for leaves from their smartphones. With this feature, managing timetables for schools becomes a lot simpler.
Report Card Management
A student's hard work throughout the year is reflected in their report card, making it one of the most anticipated parts of the school year. For both teachers and schools, it is a time-consuming task.
School management software can assist teachers and school administrators in preparing report cards more efficiently by using an interactive database. The database generates a report card for each student based on previously collected data on student's performance in class. With the best school management software, parents and students will have the opportunity to review their child's report card anytime.
Online Fee Management
If you don't have the appropriate software to handle receipts and checks, planning bills, and keeping track of various fees tasks can be time-consuming and difficult.
Best school management software provides a convenient payment method for handling and delivering orders, accruing fines, and budgeting expenditures. It's a breeze to work with school management software. Parents can pay their child's school fees in the comfort of their own home by using online billing, which makes it easier for teachers to authorise credit card charges. As a result, both parents and the school benefit from the online fee management process being as simple as possible.
Database management
Bear in mind that you can store all of your data in a system, but don't keep bundles of files. If applicable, this method will assist you in obtaining immediate access to the results. This is possible with the help of the best school management software.
Such a school software is capable of smoothly handling all old and current student registration and enrollment procedures. Software for school management  will eliminate problems created by human error and differentiate between new and old students depending on the details given.
Management of payroll
Employee knowledge can be handled easily through this module. The HR module will be used to keep track of all details relating to employee enrolments, recruitment, payroll, and leave demands.
User-friendly UI
Every app that is to be effective must have a user interface that is quick to use and well built. It should be designed in such a manner that even those with no prior programming experience will use it. Additionally, the school ERP software is adaptable to the needs of the classroom.
These are just some of the characteristics of the best school management software. So, what are your thoughts on it? If you have any, please leave them in the comments area.