Summary: In this blog, we learn a secure and effective way to restore Google Takeout data using third-party software. There is no manual method to perform this process. Thus it is highly recommended to use a tested and expert approach.
Google has always been the first choice for each customer because of the advanced services it provides. Such as Gmail, Google's suite (previously Google Apps), Google Drive, and so on. One of the most useful features is Google Takeout, which allows them to easily download data from their Google account and use it offline. As a result, many users prefer to save their data by utilizing Google Takeout.
However, the majority of them want to import the downloaded data to their Gmail account so that they may easily access the same information in their Gmail account. In the section that follows, we'll go through how we can restore this archive file.
A Quick Overview of Google Takeout
When most users need to export data from a Google application, such as Gmail, Google Takeout is the best solution. It allows users to select which data elements must be exported. When you select it, the service begins downloading data from your account. Users can thus select the appropriate data item to extract, such as emails, contacts, bookmarks, and so on.
There are numerous other products related to your Google account. Which can be downloaded via the Google Takeout service. It downloads the selected data and saves it in a ZIP folder that is saved locally.
Before we restore email data, we should have the Gmail archive file. So let's check how Google Takeout to download mailbox emails.
Follow the below-given steps to save your emails in a zip file that can be later extracted as .mbox file. Let's begin;
Step 1. Log in to your Gmail account with details and then go to the Google Takeout official page.
Step 2. Now in the new interface, under "Select data to include" the option select "Deselect All" and choose Mail option.
Step 3. Select the delivery method as "Send download link via email" and also select file type and size from the given options.

Step 4. Next click on Create Export, and your process will start. Note that this process may take 24 hours to complete.

Step 5. After that, open your Gmail account and check the mail from Google Takeout. There will be a link, click on it and download the archive file.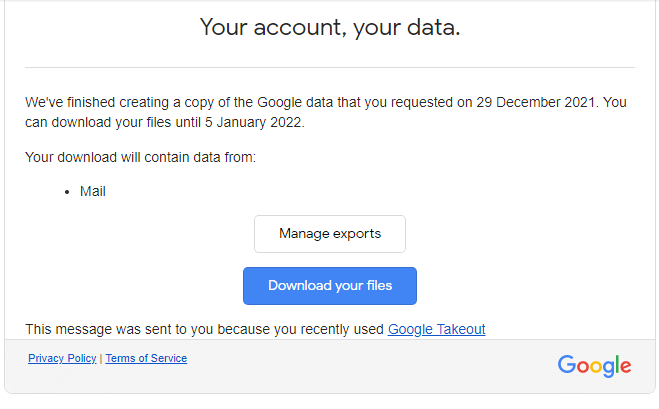 Google Takeout Exported Data
All of Gmail's emails are save in. mbox file format, as well as its attachments Thunderbird, Outlook 2011 for Mac, Apple Mail, Entourage, and other email clients, support the MBOX file type. By default, a single MBOX file is created for all mails. Google Takeout makes it simple for users by storing data three or seven times per week.
Google calendars are save in the ICS file format. Among these, iCalendar is one of the most extensively used methods for storing and sharing calendars on the internet. There are many web-based and desktop-based apps that can open and read ICS files. Google calendars are saved in the ICS file format. Among these, iCalendar is one of the Contacts.
vCard: are saved in the vCard format. By default, vcf files are used. It is an electronic business card that works with a variety of email apps as well as other devices.
HTML: HTML is the best file format for opening any file in a web browser. When contacts are save in HTML file format, they are simple to import into other Contacts Management Software.
CSV: A Comma Separated Values (CSV) file that can be open in Microsoft Excel. As a result, there is an advantage to storing contact information in a manageable format using spreadsheets.
Here you have an archive file,  now you can restore this file into the new account. For that, you need to use automated software that is mentioned in the next section.
Directly Transfer Google Takeout File
To restore the archive file user need to import Google Takeout to Gmail. After that, you can easily access those downloaded emails in your new mail account. For that users can use Google Takeout Converter, which can easily transfer all email files without losing a single bit of data. Let's see how this tool works;
Step 1. Download and run this tool on your Windows.
Step 2. Click Open and choose email file.
Step 3. Click on Select Email data file >> Select Google Takeout File >> Select file or folder.
Step 4. Click on the Export button and choose Gmail.
Step 5. Enter Gmail user id and password and hit on the Save button.
Here complete the process and you restore Google Takeout data.
Conclusion
Google provides a plethora of services that make it simple for users to manage their data. One such example is Google Takeout. In the preceding discussion, we looked at how to restore Google Takeout data into Gmail or G Suite (Google Apps).
You can also read: Tips to Secure GoDaddy Business Email Account