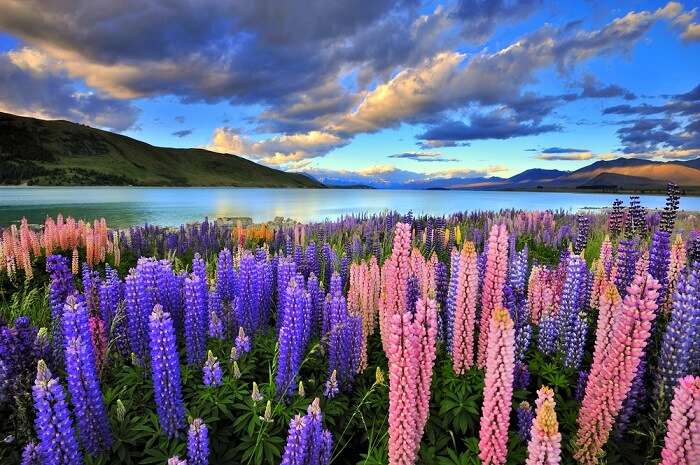 When it comes to traveling, New Zealand has everything to offer that you might be looking for. New Zealand has breathtaking scenery. It offers heart-pumping adrenaline activities. Moreover, New Zealand has one of the best cultures in the world along with fantastic food and wine. All these things have acted as travel inspiration for New Zealand. However, for many travelers, the main area of inspiration has been the south island of New Zealand. This area offers activities for everyone. Overnight scenic cruises are offered on the island along with cultural exchange activities and adventure tours.
Here we have mentioned some fantastic reasons, which make traveling to New Zealand's south islands worth it.
Get your thrills on a jet boat ride
When do you know that you are in for a fantastic jet boat ride, obviously when the driver tells you to take off your hat and sunglasses. Contrarily you know you are not going to enjoy the ride if the driver tells you to fasten the seatbelt.
One travel inspiration for New Zealand has been Shotover river jet boat rides. The rides are organized by the local people of the area. This is an experience that would force you to hang on tight. You would pass through various canyons. Moreover, the driver would perform 360 degrees turn in the foaming water. To do this activity you need bravery and a lot of it.
Hike to Franz Josef glacier
This glacier is named after an Austrian king and is a 13-kilometer long glacier. It is one of the steepest glaciers in New Zealand. The glacier is advancing at a rate that is ten times of other glaciers in the world. It is one of the most beautiful travel routes in the world.
When the sunlight reflects off of the blue ice, it creates a very glamorous contrast with the rugged mountains. You need to take out your walking shoes and listen to what the team leader is saying as he takes you within 750 meters of the glacier. If you want to get even closer to the glacier then you can join a heli-hiking tour.
Spend the night at the eighth wonder of the world
This eye-popping scenery has been carved by glaciers over the course of several centuries. The south island's Fiordland is a very dramatic place. The area offers steep fiords along with lush rainforests, cascading waterfalls, and crystal clear lakes. Moreover, the area offers granite peaks that haven't been touched for several thousand years.
This area was once described as the eighth wonder of the world by Rudyard Kipling. If you want then you can spend a night there surrounded by its majesty. You need to onboard a vessel and get settled in a comfy cabin. Then join the rest of the crew on the deck when the boat leaves the dock. At this overnight cruise, you would have something to look at, at all times.
Hike to the blue pools with a biodiversity specialist
This travel route has been very famous among Travel Inspiration to New Zealand. It is regarded as the best short walk. It is located between the Wanaka and west coast and you will find the blue pool track along the Haast pass. First of all, you pass through an open field that is surrounded by mountains.
Then you pass beech forest before making it to the other side of the blue pool by passing a swing bridge over Makarora River. Mother Nature has already dialed up the colors to an extent that you would not need to use a filter on Instagram.
Packing for trips
One of the most daunting tasks about traveling is packing a suitcase. Most people watch travel inspiration videos and try to pack things like the person in the video. However, the situation is different for every person. So, you should pack things based on their practicality.
Try to break everything down into categories. Then arrange all the material in front of you and see what stuff you need. You should ask yourself questions like "does it spark joy?", "does it serve a purpose?".
Avoid Instagram famous locations
You need to do a lot of research before you visit a location. In that regard, it is advisable that you ask locals or someone who has visited the place. Generally, Instagram famous locations are not as good as they appear on social media. A few years back a location might have its charm. But now, the location has been overrun by visitors as it got popular. Due to this, there would be a lot of people at the location and it would become difficult to enjoy the place.
One such example is of Livraria Lello bookstore in Porto, Portugal. It is one of the oldest bookstores in the world and also one of the most beautiful. Due to this, the small bookstore has been overrun by visitors. Everyone there is trying to take a selfie or take picture of a companion. Due to this visiting the location has become a chore.
Carry petroleum jelly
The humidity levels in planes are quite low. Due to this, the airplanes are notoriously dry places. Primarily due to this, the planes can cause migraines. So, it is suggested that you take petroleum jelly with you. You can use it to line up the nostrils. This can increase the humidity level of your nose and keep you away from migraines.
Check the electric kettle
In my visits to different countries, I have been staying in different sorts of hotels. This includes hotels from budget class to luxury class. The services offered by these hotels varied from country to country. Similarly, the cleanliness also varied greatly.
So, I devised a way of checking the cleanliness level of the hotel. Electric kettles are a basic necessity that is offered in every hotel. A poorly maintained hotel would have a dirty, rusty, or moldy electric kettle. So, you can always get an idea about the services of the hotels by just looking at the electric kettle that they have provided you.