Business
Easy Steps For a Great Floor Screeding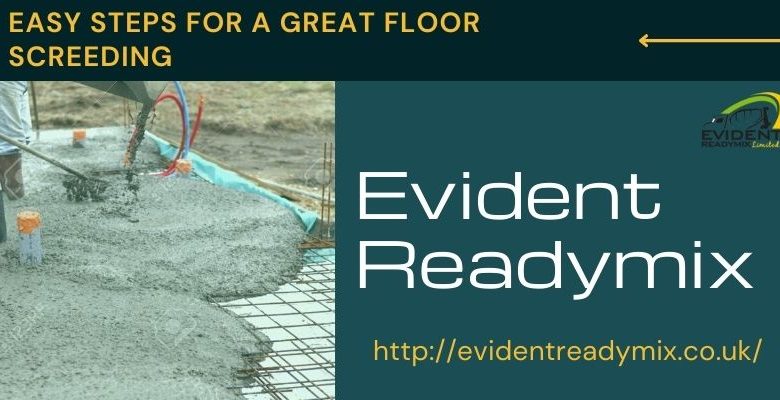 Have you ever got embarrassed due to the uneven flooring of your home or office? Well, to solve this concern, one must be familiar with floor screeding.
In order to achieve desired results, one must use cost-effective products for construction projects. When it comes to flooring, concrete mix screed is the most popular way to secure the floor.
Whether it's a small-sized task or large-sized project, go for the right floor screeding steps. Well, now we will discuss steps to be considered for floor screeding. But before that let's discuss types and tools for screeding.
What is a Floor Screed?
Generally, for a floor screed, the main components are cement, water, and aggregates. Also, it provides durability and much strength to the entire structure.
We can implement floor screed onto solid in-situ concrete area floor slabs covering layer or alternatively over precast concrete columns. You can use it for levelling out a concrete sub-base. More precisely when there is an uneven surface. Also, for supporting stress during the drying process.
Steps For Great Floor Screeding
For the durability and quality of the floor, there are a few steps to keep in mind.
1. Select Best-Suited Supplier
We understand it is not easy to choose one supplier from numerous choices. So, before making a decision, check the quality and quantity you require plus affordability. You can talk to the supplier regarding many choices.
Further, you can ask your friends or known about trustworthy and genuine suppliers. It will make you understand their experience and capability to supply for your project. For hassle-free work you can ask them about the number of workers and availability of equipment.
Once you get your brain clear regarding these things, it will be simpler for you to prefer. You will be able to stick on the right concrete screed mix, a technique for the screeding and budget-friendly supplier.
2. Suitable Floor Screed
Same as a supplier, there are many brands and kinds of screed available in the market. Hence take your time to make a decision.
This type of screed is best in providing desired results. However, it's not good for places that get wet. Generally, it can be used in industrial halls. Well, the major disadvantage is it's not flexible with cementitious products.
As the name says, fast-drying screeds are best for completing work early. Generally, modern contractors use this type of screed. For completing a project on time, these screeds are used. Furthermore, it dries in just a few days for the last floor finish installation.
In traditional screed, the cement and sand ratio of mixing is 1:3-5. Most probably, it is used to create a suitable surface for placing wood floors, tiles, vinyl and other things. This screed takes many days to dry up.
3. The Right Method of Mixing Screed
On-site, mixed screed is economical and efficient and economic for projects.
It needs a lot of work by labourers and is only recommended in the small areas.
It is best for less wastage, quality delivering, and saving man-hours. Also, it is generally used for medium-sized projects.
For mixing a huge amount of screed, free fall mixing is the best option. Remember this method is applicable for general concrete mixing. However, not to deliver the high-quality screed.
By the drum mixing trucks, labours deliver the ready mix screeds to the site. Moreover, for big construction projects, a ready mix screed is the best choice.
Now, let's have a look at the most common five types of screeds.
5 Types Of Screed
Unbonded Floor Screed
Just like the name refers, this screed is parted from the substrate through a layer. Unbonded screeds can't strengthen the right to the base. However, polythene/DPM is laid on the tip of the stable base.
You can determine the thickness of the screed from the technical details sheet of production as far as it goes, and must be higher than the 50 mm thickness of a regular screed
Partially Bonded Screed
It is the most affordable screed but not durable. Don't use this screed on a harsh surface. It is not directly bonded and thus separated from the membrane.
Bonded Screed
Screed laid onto a specifically designed substrate to augment possible bonds using a strong primer or bonding agent. The thickness of the Bonded screed is 15mm to 50mm (depends upon the end-use).
Liquid Screed
You can use liquid screeds for large areas. It needs heavy tools for pumping liquid into the desired area. Further, the fluid texture gives regularity and accuracy to the surface.
Conclusion
In conclusion, we hope this guide helps you with good floor screeding. Further, you will be able to choose between concrete mix screed and ready mix screed.