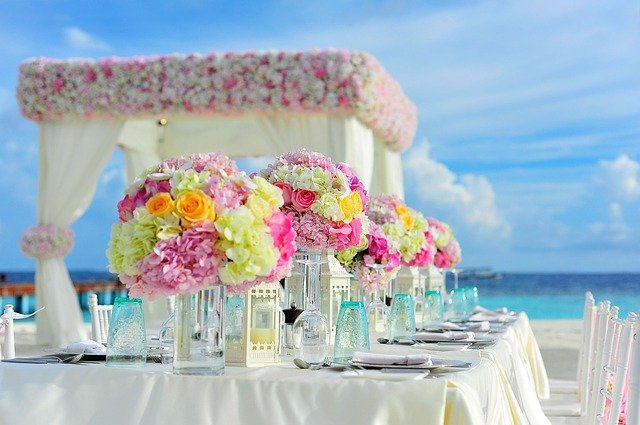 June weddings and Spring-time weddings have a large Fan base. A big reason for this decoration is the flowers during this time. Vibrant colors and the vibe or Floral outfits add to this factor. Who doesn't love flowers? They are the epitome of romance. Every year floral decorations reach new heights of aesthetic with flowers used in interesting ways. Being so much in trend Flower delivery in Kerala and everywhere around the nation makes it easier for wedding planners. We know that Wedding bouquets and floral centrepieces are kinds of foundation, but that doesn't limit your choices to use flowers unexpectedly.
Bridal Wear
Do you want to be breath-taking on your wedding day? Isn't it? Every bride wants to be noticed throughout the wedding, especially leaving the guests awestruck when she walks down the aisle.
Adding a floral detail to your simple gown either running over one shoulder or down the back can add a pop of visual appeal. Even their lehengas automatically become more graceful when draped with flower. You can always rock a botanical braid too! It is a bold statement and helps your bridal hair to Blossom.
Go Sustainable With Dried Flowers
You might find this bizarre but due to COVID, dried florals are a beautiful alternative trending this year! Pampas grass and leaves? Yes, that's a part of sustainable decoration. Now you don't have to rely on fresh flowers when it comes to your wedding.
From Dried palms and flowers to Fluffy Pampas grass to magnificent arrangements, it is all exquisite. This is also an excellent way to use flowers in your wedding without harming the environment and opting for eco-friendly decor options.
Blooming Backdrop
A floral wall is multipurpose as you get a lot of use out of it. The backdrop for your photos or behind your birthday cake or even in front of your first dance and so many more possibilities are there.
Requesting your florist for a greenery wall with some flower accents, helps you get all the stage you need! A macramé with flowers, A DIY floral wall representing what's special to you, a Vintage room divider, customized color-block blossomy wooden art, and the list is endless.
Dreamy Decorations
Planning to have an outdoor wedding? We've got two words for you- Alfresco Awe. Such weddings give you ample opportunities for eye-catching decor. Floral figurines add to this by using flowers to create stunning animals or different objects to ace the decorations.
Today, ceremonies like Haldi and Mehendi are turning into pool parties, where both fresh and artificial flowers are used to decorate the pool! Pastel and rose-y hues or even a neutral color palette, everything works out just perfectly. The natural colors never fail to steal the show. These decorations work for all seasons like magic!
Flower Topped Delicacies
Edible flowers are a true blessing. Fizzy florals are a livelier yet subtle element to greet the guests with special glasses of bubbly sprinkled with rose petals. If not roses of various colors, you can always choose petals of any other savory flowers.
Have you ever tasted gulkand barfi? We're sure you have. But did you know it is made with dried rose petals! Edible flowers are used in several international cuisines such as cocktails, cakes, cookies that everyone loves. Flowers are nto only the decorative items but also the vibes.
Floral Chaddar
Brides love to make heads turn on their wedding day. And, why not? It is once their life moment. A stunning bridal entry is incomplete without a perfect phoolon ki chaddar. It is a special moment that the bride wants to ace while walking down the aisle, with the best music playing in the background.
Roses, Lotus, All-white flowers, multicolor flowers, Canopy of lilies, Orchids, and all combinations of flowers look gorgeous in a floral chaddar. Everyone waits for the spectacular entry of the bride!
Gifts For Guests
Want your guests to take something good to remember their wonderful time at the wedding? Spring-time-inspired favors are the best idea. These are usable and reduce waste.
Specially curated hampers or customized seed packets or even pressed flowers are amazing return gifts for the guests. Flower delivery in Kerala and various other cities assist you in designing your presents.
There are many exceptional ways to use flower to make your wedding unique. They bring together the colors of your wedding palette classically and beautifully! Wedding designs are usually inspired by flowers. Peonies are referred to as the 'king of flowers' symbolizes happy marriage and good future.